Currently in the NBA, there are no jersey sponsorships on regular season game jerseys. Teams are allowed to have sponsors on practice jerseys only. Only two teams I know of have such sponsors, and sponsors are only given a small amount of space located near the players' right area at around the collarbone area. Both teams with practice jersey sponsors have also been able to sponsor naming rights for the practice court.
1. Phoenix Suns - The Annexus Group (annuity firm)
2. NJ Nets - PNY (computer memory maker)
However the two NBA affiliated leagues, those being the WNBA and the D League do allow teams to have sponsorships on regular game jerseys. Here are the teams right now that have sponsors. Until now, the only logo on the WNBA jerseys that is being presented is the adidas logo, which is the supplier of all the team uniforms. Adidas also supplies NBA team uniforms, but the adidas logo and name are not visible. WNBA teams are believed to be getting about $1 million/yr annually for having ads in place of the team names:
WNBA
1. Phoenix Mercury - Lifelock
2. LA Sparks - Farmers Insurance Group
3. NY Liberty - Foxwoods Resort Casino in Mashantucket, CT (about 50 miles east of Hartford, 9 miles from the Mohegan Sun Casino in Uncasville, CT)
4. Seattle Storm - Bing (example of jersey below)
(It should be noted the Connecticut Sun team already has a logo by default since their owner is the Mohegan Sun Casino as the Sun imprint is the same as the imprint for the logos of the casino, but this is not ajersey sponsorship.)


NBA D League

David Stern gave the go-ahead to allow D League Teams to have advertisements on the jerseys given the success it has in bringing in revenue for WNBA teams. Given that the WNBA has better reach than the D League, the sponsors have so far been smaller time and are regional institutions or businesses. Two teams were able to snag deals so far:
1. Erie Bayhawks - Lake Erie College of Osteopathic Medicine, located in Erie, PA (Example of jersey below)
2. Rio Grande Valley Vipers - Lone Star National Bank. This team is based in Hidalgo, TX and the McAllen, TX area, which is next to the city of Reynosa, Tamaulipas, Mexico which is a decent sized town.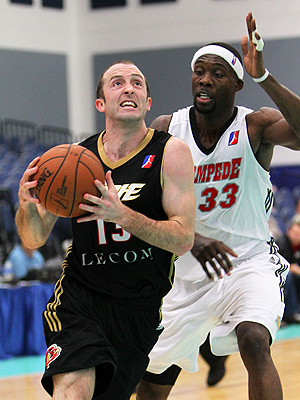 Note that unlike WNBA teams, the D League teams with jersey sponsors still have the team name labeled prominently, and that the ads are below the team name.
My take:
I am a purist, and I don't like seeing walking ads like you see on NASCAR suits and cars, but if there are one or two sponsors on the jerseys, I don't mind, especially in this day and age when teams gotta find take and find any money they can. Teams should be free to find any sponsors they want to, but they are barred from finding apparel companies, like Under Armour and Nike, because all the jerseys are made by Adidas. Not like Nike would want its swoosh on an Adidas jersey anyway. I would lean towards major companies based in the city, and if there is a major ethnic minority or if the team's arena is in an ethnic enclave, that would also be neat. Teams also do not and should not share money generated from these sponsorships.
For example, the Washington Wizards could try get a sponsorship from:
1. Geico - Headquarters is in nearby Chevy Chase, MD
2. Volkswagen - US Headquarters is located in Herndon, VA which is about 20 miles from the Phone Booth
3. Mars, Inc. - Candy maker, and the headquarters is based in McLean, VA, which is also close by.
4. China Airlines - Plays to the fact that the Verizon Center is in Chinatown. I wouldn't mind seeing more Chinese in the Verizon Center to be honest since it is in Chinatown. Asterisk here is that this air line is based in Taiwan, not China proper.
5. Air China - If you want a mainland Chinese air carrier's name for the Wizards, this is it.
The Los Angeles Lakers on the other had could get a jersey sponsorship from:
1. Hanmi Bank - American bank based in LA. The name is Korean, and it is a bank targeted for Korean Americans. The largest Korean American enclave is in the Los Angeles area. There are some other Asian American targeted banks, some based in the "motherland" countries, but this bank is American. Koreatown, LA is about 2 miles away from Staples Center so it's definitely worth considering either them or a Korean corporation.
2. Korean Air - Again, plays for the Korean American population. US HQ is in LA. This may be a better fit for the Clippers because Delta is the official airline for the Lakers, so Korean Air may not work out, even though I think they both are skymiles partners.
3. Pollo Campero - Guatemalan fast food chicken chain with locations throughout central America, South America, Mexico, the US, Europe, and Asia. There are numerous locations in the LA area. US HQ is in Dallas, but it's worth a shot. Who cares if a restaurant chain is on the jersey? Money is Dinero!!!! This plays for the Hispanic population.
4. Farmers Insurance - Why Not? The Sparks have a deal with them. They should love to do this for the Lakers.
5. Disneyland - Again, why not? Disneyland is in LA! This would hurt the Magic's chance of partnering with Disney World.
How do I wanna see jersey sponsors? I'm leaning toward the WNBA route, because if a sponsor is going to be on a jersey, let them have the prominent part of it. Then again, I understand that the team name is still very important to the league and can there still be a way to display them.